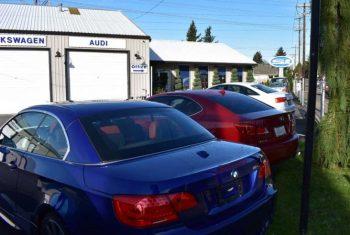 A Legacy of Quality BMW Repair
For over thirty years, Steve's Imports has been performing BMW repair service in Portland, Oregon. The 1600s that we were servicing when they were first launched are now the collectors' items that we perform restorations on.
We've seen the full range of BMW's evolution and we have the experience to make any model of the German classic run for years to come.
Our certified technicians take pride in servicing any BMW with the same level of care, be it changing a timing belt on your E30 coupe or performing a complete engine overhaul on your late model M5.
We've been repairing and servicing high performance BMW's for over three decades.
No matter what year your BMW rolled off the lot, we can help it run like it just came off the production line.
---
Our Mechanics Repair Every BMW Make and Model
You may have over 100k miles on your BMW and are starting to see some age, this is normal. As a leading BMW specialty shop, we have seen and performed nearly every possible BMW repair. These have included:
Uncommon DME and DDE failures
BMW cooling system failures
Expansion tank ruptures
Radiator plastic baffling leaks
X5 4.4l motor with a leaking valley pan gasket
N62 motor that is leaking from the coolant transfer pipe
A head gasket on your 745LI
The engine cooling fan on your 325i
Regardless of repairs needed, we strongly recommend performing a long cooling system pressure test. We often will perform overnight pressure tests to ensure thoroughness of cooling system repairs on BMW's.
Don't forget to install those timing chain and belts on you older 3,5,6 and 7series BMW's.
---
Why do we love repairing BMW's?
My Dad, Steve Spinnett owner and founder of Steve's Imports told me a story of his first BMW that I absolutely love. One sunny day about 38 years ago, he was driving past a BMW dealership. He spotted a bright red 1975 BMW 2002 for sale. It was love at first sight.
He immediately pulled a U-turn to go get a closer look at this flawless machine. He drove it that day. Mind you, it was very rare for a mechanic, especially then, to buy a newer vehicle. Mechanics always drive the fixer-uppers! But Steve couldn't resist.
Decades later we have seen thousands of BMW's roll through our shop. We love working on these cars and we love driving them.
Carburetors, CSI Injection (not the tv show) Direct Injection, mechanical injection, supercharged, we love them all. We have restored our share of 2002tii cars, and have serviced 1600, E12, E21 and later models.
---
Ok, alright I wasn't going to buy the car, just look. That salesman was good, I drove the 2002 off the car lot for keeps! With zero planning, those were the single days. One day when driving in front of my future wife's house, looking into the rearview mirror, checking out how good I looked with my new bad boy sunglasses, Bam! I rear-ended someone right smack dab in front of her home. No worries, she wondered what I did to my Datsun. I respectfully told her "it was a BMW, A 1975 BMW 2002.
---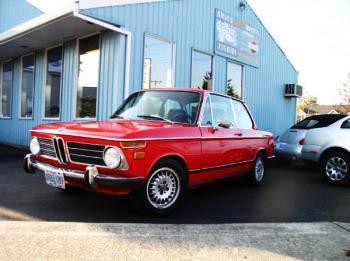 What are the most common BMW repairs we perform?
Some other common auto repairs you may need or have already performed are oil filter stand gasket leaks found on several models such as BMW E39, E46, E90 and other models.
This usually starts as lightly seeping oil then develops into heavier leaks over shorter periods of time.
To properly repair and thoroughly confirm oil leak repairs on BMW, we de-grease and steam-wash the engine. This provides your engine with a nice clean start but it also gives us the opportunity to inspect for any other engine oil, coolant or hydraulic fluid leaks while performing an inspection of the underside of your BMW.
---
Common BMW Repair Questions
Where should I take my BMW for repairs?
It's recommended to take your BMW to a certified BMW repair shop or an authorized BMW dealership for repairs. They have specialized knowledge and access to genuine BMW parts.
How often should I service my BMW?
BMW recommends servicing your vehicle according to the intervals specified in the owner's manual. This typically includes regular maintenance tasks such as oil changes, fluid checks, and inspections.
Can I perform basic maintenance tasks on my BMW myself?
Some basic maintenance tasks like checking and topping up fluids, replacing wiper blades, or changing air filters can be done by the owner. However, more complex repairs should be left to professionals.
How much does BMW repair cost?
The cost of BMW repairs varies depending on factors such as the specific repair needed, the model and year of your BMW, and the labor rates of the repair shop. Request estimates from multiple shops for comparison.
Are BMW parts more expensive than generic parts?
Genuine BMW parts are often more expensive than generic parts. However, they are designed specifically for BMW vehicles and provide optimal fit, performance, and longevity.
---
We can help you prioritize repairs to BMW servicing affordable!
You may be stressing potential repair costs on your BMW. Please talk to us about this! We like to create a game plan that is affordable for our customers to keep these fine machines on the road.
We can show you the difference between a critical or high priority repair, and a moderate or lower priority repair so that you accurately understand the current condition of your vehicle.
We understand that you drive a BMW because it gives you an experience like no other vehicle, and it is important for us to make sure we deliver you a similar service experience.
---
These cars make our job fun. From Munich to Portland, we welcome all BMW's and their owners.
---
If you're a lifelong fan of BMW's roadster series, Steve's Imports can ensure that you get as much power out of your engine as you do from its eye-catching design.
From the rare 507 to the familiar Z4, we treat every model with the outright respect they deserve. And just because you're not tearing up the roadway in your Bimmer, doesn't mean we won't show it the same love as we do the speedsters.
Over the years, BMW has expanded its legacy of luxury into a wide array of models, and if the reason you own one is to keep your whole family comfortable then you can feel secure with your X3 Crossover or any other of their larger series in our hands.
---
Contact Steve's Imports in Portland for BMW Repair
At Steve's Imports we treat every BMW we service like it's one of our own, and you can rest assured that your vehicle will operate at the optimal level of class and dependability that the brand has relied on since its inception.
It doesn't matter if your BMW runs on petrol or diesel, has 4 cylinders or 8 – we'll have it operating at the maximum efficiency it was designed for.
Services we offer
– Diagnostics
– Brake repairs
– Fuel injection
– Suspension repairs
– Service and maintenance schedules
– Clutch repairs
– Engine repairs
– Timing belt replacement
– Engine performance repairs
– Mechanics
– Diesel
Call Steve's Imports at (503) 771-6701
Nieghborhoods
Portland Downtown
,
Southeast Portland
,
Pearl District
,
Northeast Portland
,
Boise
,
Sellwood – Moreland
,
Portsmouth
South Portland
,
Rose City Park
,
Old Town Chinatown
,
Bridgeton, Portland
,
Brooklyn, Oregon
,
St. Johns, Portland, Oregon
,
Hawthorne, Portland, Oregon
East Portland
,
Mount Tabor, Portland
,
Southwest Portland
,
Cathedral Park
,
Multnomah
,
South Waterfront
,
Eastmoreland
Ladd's Addition
,
Laurelhurst
,
Montavilla
,
Lloyd District
,
Mount Scott – Arleta
,
Parkrose
,
Cully Association Of Neighbors
Arbor Lodge
,
Goose Hollow
,
Mill Park
,
Powellhurst-Gilbert
,
Brentwood-Darlington
,
Woodland Park
,
Sullivan's Gulch
Argay Terrace
,
Portland Heights
,
Hollywood District
,
Foster-Powell
,
Hosford-Abernethy
,
Creston-Kenilworth
,
South Tabor
Central Eastside
,
Parkrose Heights
,
Northwest Industrial
,
Glenfair
,
West Portland
,
South Burlingame
,
Healy Heights
North Tabor
,
West Portland Park
---