Mercedes Service in Portland Oregon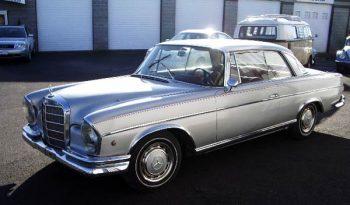 Steve, the owner and founder of Steve's Imports was working in the shop with his 14-year-old son John when the phone rang. It was an elderly lady wanting to know what to do with her deceased husband's Mercedes that he had bought new, and was now collecting dust in her garage. Steve being unsure yet enthusiastic said, "I'll come on over and take a look at it". Steve and his son jumped in the car and headed to Lake Oswego. A sweet elderly lady greeted them and showed them to the garage. To Steve's surprise, the car was a dust-covered 1959 Mercedes 190sl—a car that most Mercedes enthusiasts see in their dreams. We wrote an estimate, took the car into the shop, and restored to her a beautiful Blue 190sl. She told me that was the car her late husband drove when they went on their first date. She then paid me, accepted the keys, and handed them right to her son.
Our family lives for Mercedes.
Steve and both his sons are very active in the industry, one thing they have in common is their agreement that Mercedes are the best vehicles on the road. Steve loves his Mercedes G500 and having owned thousands of cars, he says this will be the only car he keeps forever. Thommy has a C320 which he uses as a commuter, and John, well he wishes he had a Mercedes.
Mercedes-Benz are known for their reliability and longevity. You want the most from your vehicle, and we can give it to you.
We've been working on Mercedes for over 45 years. Our ASE Certified technicians cherish these vehicles and our affordable pricing makes it easy to keep your Mercedes in peak condition.
From modern to vintage Mercedes repair, we do it all.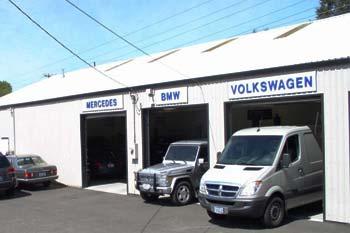 There are currently a wide variety of Benz lines on the market, and while differing greatly in size and appearance, they all maintain the same high degree of German ingenuity. Their SUVs are well-known for highly rated performance and be it an older M-Class or the newest GL-Class we can ensure that your vehicle is operating at the high level of power output you expect from your Mercedes. The same goes for any other vehicles in their line, from the family-friendly A-Class Hatchback to the latest developments in their long-running SL class. We've completed repairs on the earliest SL190's, and brought them back up to their deserved level of prestige. Steve's Imports is also well experienced and equipped to service your Mercedes van line, including the long-running Sprinter diesel vans and the Mercedes Metris. We also have plenty of experience with grey market cars that you typically don't find here in the US. We understand that people in the NW drive Mercedes because it fuels both class, adventure and industry which we have such a strong mix of here in the Portland metro area.
Specific Mercedes services we offer include:

– diagnostics of Mercedes Benz
– brake repairs on Mercedes Benz
– fuel injection service on Mercedes Benz
– suspension repairs on Mercedes Benz
– service and maintenance schedules on Mercedes Benz
– clutch repairs on Mercedes Benz
– engine repairs on Mercedes Benz
– timing belt replacement on Mercedes Benz
– engine performance repairs on Mercedes Benz
– mechanics specializing on Mercedes Benz
– diesel Mercedes Benz
---
What are the most common Mercedes problems we repair?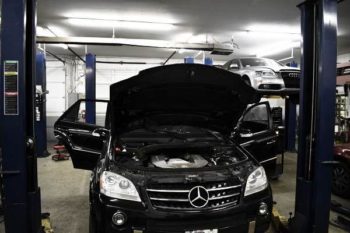 A few of you Mercedes owners have probably experienced what we call pattern failure from the ever so popular W203 chassis (C-class). When spending every day in a shop that specializes in Mercedes you begin to experience a repeat of problems that happen on the same engine type. You may have experienced a check engine light caused by something called the Secondary Air Pump, or Air Pump Change Over Valve. This is a fairly simple repair to make, however, we do recommend having it tested first before you spend money on a replacement valve. Reason being is that there are several faults that can trigger your check engine light and/or cause you to fail DEQ. Such as:
The Crank Position Sensor. Similar issues we see with the Cam Position Sensor, however, this often leads to getting stranded. We see these act up when they get hot. Common on the CLK320, SLK320, ML320, E320, & C320.
Cam Position Sensor. A problem that Mercedes has dealt with for years on the E, C, SLK, CLK, & ML320 Mercedes
Air pump check valve. Also found on 320 models for the SLK, CLK, ML, C & E Class Mercedes
Timing Chain Tensioner. Not always the culprit for Mercedes check engine lights, however, this can lead to a heartache of engine damages and costs. Also a culprit on the CLK320, SLK320, E320, C320, ML320.
Oxygen Sensor. A common issue on all gas and diesel Mercedes models, but not an expensive repair, and relatively easy. It's a good idea to take the temperature of exhaust entering the catalytic converter and compare to the temperature exiting to make sure the catalytic converter is doing its job. This can commonly be confused for a failing sensor.
Intake manifold runner control closed. Causing faults P2004 or P2006, important to have repaired immediately before debris gets sucked through the intake
DEF (Diesel Exhaust Fluid) warning light and related issues. More common on Sprinter and Mercedes ML & GL models.
EGR faults causing P0400 codes. Common problem on Mercedes causing limp home mode symptoms.
Auto assist trunk and tailgate. Open/close failures on Mercedes equipped with auto assist trunk and tailgate options.
Get the vehicle maintenance you need.
Major engine or transmission overhauls are a rarity when it comes to a Mercedes-Benz, and the majority of work needed on most vehicles are things that regular service maintenance can prevent. A Mercedes can be the ideal vehicle for the greater Portland area; perfect for both city driving as well as to take on ventures outside of the city limits. At Steve's Imports, we'll treat your Mercedes Benz like it's one of our own and promise a long life of quality hours on the road. You can feel confident with your Benz in our hands.
Common Mercedes Repair Questions
Where can I get my Mercedes repaired?
You can get your Mercedes repaired at authorized Mercedes-Benz dealerships, independent auto repair shops specializing in European cars, or certified Mercedes-Benz service centers. We specialize in Mercedes repair. Contact us today.
How often should I service my Mercedes?
It is generally recommended to service your Mercedes every 10,000 to 12,000 miles or once a year, whichever comes first. However, refer to your owner's manual for the manufacturer's recommended service intervals.
How do I know if my Mercedes needs repairs?
Look for warning signs such as unusual noises, dashboard warning lights, performance issues, fluid leaks, or any other abnormal behavior. Regular maintenance and inspections can also help identify potential issues before they become major problems.
Can I use aftermarket parts for Mercedes repairs?
While it is possible to use aftermarket parts for Mercedes repairs, it's generally recommended to use genuine Mercedes parts. Genuine parts ensure compatibility and quality and maintain the performance and reliability of your vehicle.
Is regular maintenance necessary for my Mercedes?
Yes, regular maintenance is crucial for your Mercedes' optimal performance and longevity. It helps identify potential issues, prevents major problems, and ensures that your vehicle operates safely and efficiently.
Contact us for Mercedes repair in Portland today.
Steve's Imports has been performing Mercedes-Benz service in Portland, Oregon for 45 years. Our certified and factory trained technicians have detailed experience with each type of Mercedes Benz available, and we ensure the finest care available on the vehicle that has come to define "class" in the automobile world. Beyond their classy reputation, Mercedes are very reliable vehicles, it is not uncommon for us to see a 1980's Mercedes 300D with nearly half a million miles on it – with regular service maintenance they can last a lifetime on the road.
Call Steve's Imports at (503) 771-6701
Nieghborhoods
Portland Downtown
,
Southeast Portland
,
Pearl District
,
Northeast Portland
,
Boise
,
Sellwood – Moreland
,
Portsmouth
South Portland
,
Rose City Park
,
Old Town Chinatown
,
Bridgeton, Portland
,
Brooklyn, Oregon
,
St. Johns, Portland, Oregon
,
Hawthorne, Portland, Oregon
East Portland
,
Mount Tabor, Portland
,
Southwest Portland
,
Cathedral Park
,
Multnomah
,
South Waterfront
,
Eastmoreland
Ladd's Addition
,
Laurelhurst
,
Montavilla
,
Lloyd District
,
Mount Scott – Arleta
,
Parkrose
,
Cully Association Of Neighbors
Arbor Lodge
,
Goose Hollow
,
Mill Park
,
Powellhurst-Gilbert
,
Brentwood-Darlington
,
Woodland Park
,
Sullivan's Gulch
Argay Terrace
,
Portland Heights
,
Hollywood District
,
Foster-Powell
,
Hosford-Abernethy
,
Creston-Kenilworth
,
South Tabor
Central Eastside
,
Parkrose Heights
,
Northwest Industrial
,
Glenfair
,
West Portland
,
South Burlingame
,
Healy Heights
North Tabor
,
West Portland Park
---