Your Local Jaguar Repair Shop.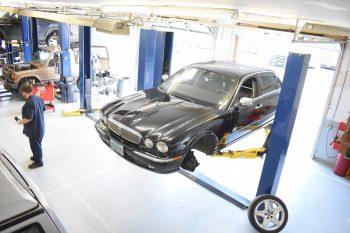 Steve's Imports brought on the Jaguar brand about 12 years ago. When realizing that there was a lack of qualified Jaguar repair shops in the Portland area, and already having the equipment to properly service these proudly engineered vehicles, we decided to regularly perform repairs and maintenance on Jag. We have performed countless repairs from XF engine replacement to XJS rear brakes (if you know what I mean). We have restored these early model vehicles for car shows, and we have performed difficult diagnosis and repairs on the later XJ, XF and X-Type models.
Why make us your Jaguar service center?
With only a few reputable Jag shops in the area, we have been growing increasingly popular with this fine British machine. Our prices are also incredibly competitive with the Jaguar brand. We understand that you drive a Jag because you love the way these luxury cars are supposed to drive, not because you want to be broke. If you have any questions about your Jaguar, or you just want to talk shop, give us a call!
Why drive to your local dealership for inflated pricing when we do the same high-quality work for so much less?
Get turnkey repairs for less from our ASE Certified Jaguar mechanics. We give you more for your money. Isn't it time you learned why so many Jaguar owners choose our independent shop?
Some specific services we offer:
– Jaguar diagnostics
– Jaguar brake repairs
– Jaguar fuel injection
– Jaguar suspension repairs
– Jaguar service and maintenance schedules
– Jaguar clutch repairs
– Jaguar engine repairs
– Jaguar timing belt replacement
– Jaguar engine performance repairs
– Jaguar mechanics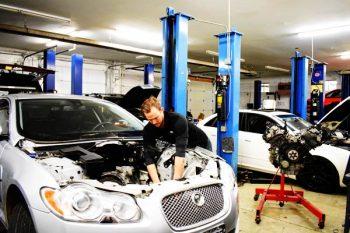 Are jaguars expensive to maintain?
Maintenance costs depend entirely on where you take your Jaguar in. An authorized service and repair center will charge more because they can. That doesn't mean you're getting better service, though. The additional cost is for the brand-name. You just want a Jaguar you can enjoy. Paying for the dealership or garages licensing fees shouldn't be a part of the cost of your vehicle. You've already paid for the quality of the Jaguar name. You shouldn't have to pay again every time you need to repair or service your vehicle.
What can you expect from our Jaguar mechanics?
We work on every model of Jaguar including the latest XF's and classics like the XJ2000. We provide complete servicing, repair, and maintenance of your vehicle. Just some of the most common reasons Jaguar owners bring their vehicles to our shop include:
Electrical Issues
Break Wear Warning System Not Active
Transmission Failure
Coolant Loss
Noise while Idling
Transfer Case Leaks
Vehicle Enter Fail Safe Mode
Fuel System Failure
Contact us for Jaguar repairs and servicing in Portland.
Call Steve's Imports at (503) 771-6701. We guarantee our work, we don't overcharge, and we work for you, the customer. The difference isn't in the work. It's in the people doing the work and what they do for you. We want you to enjoy your vehicle for the lifetime of your ownership, and we work to make it a reality. Call or contact us today.
---