Your Independent Mini Cooper Repair Shop.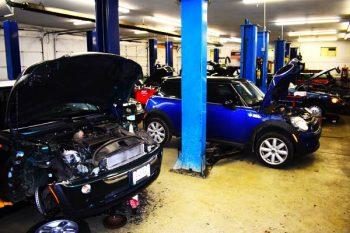 Steve's Imports prides itself on being the first Independent repair shop to service Mini Coopers in Portland, Oregon. We have developed a huge collection of factory Mini Cooper specialty tools and software and have extensive training in Mini Cooper service and repairs. We are one of the highest volume independent Mini Cooper repair specialists in the Portland area. Mini Coopers are a delight to work on and we have tons of experience with these vehicles. Have a technical question on your Mini Cooper? Give us a call!
Visit the best local Mini Cooper service center.
More than 30 years performing Mini-Cooper maintenance and repairs.
Our ASE Certified technicians know your vehicle inside and out.
The highest quality diagnostic tools and equipment for faster auto repair work.
We offer affordable work using OEM or OEM-quality Mini Cooper parts.
What are the most common Mini Cooper issues we encounter?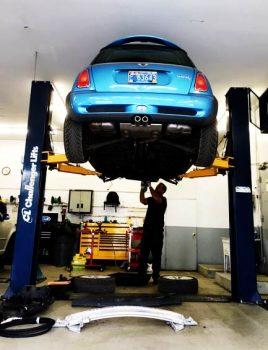 We are happy to walk you through Mini specific problem shooting. Transmission rough shifting, rough running, check engine light faults, overheating and power steering motor failures are issues we deal with daily on the Mini Clubman, Countryman, and Paceman. We have used a Mini Cooper as our company vehicle for years which has helped increase our knowledge of pattern failure with these vehicles. Other problems we repair on a regular basis include:
Clutch failures are common in 1st and 2nd generation Minis.
Automatic CVT tranmission failures occurs in 1st gen Minis.
Rattling of the timing chain, especially during idle or cold start.
Power steering pump failures.
Vanos valve timing issues due to oil buildup and sludge.
Leaking thermostat housing and water pumps.
Damaged front radiator supports.
Sealant issues around windows and trunks.
Some of the many Mini Cooper services we offer:

– Mini Cooper diagnostics
– Mini Cooper brake repairs
– Mini Cooper fuel injection
– Mini Cooper suspension repairs
– Mini Cooper service and maintenance schedules
– Mini Cooper clutch repairs
– Mini Cooper engine repairs
– Mini Cooper timing belt replacement
– Mini Cooper engine performance repairs
– Mini Cooper mechanics
Contact us today for Mini Cooper repair and maintenance in Portland!
Whether you've encountered a serious problem with your Mini Cooper, want a minor one investigated, or are just looking to maintain your vehicle, we do it all. Our passion is auto repair and our dedication is to our customers. We'll never recommend a procedure that won't benefit you and anytime you have options or need repairs prioritized, we do so. Get more for yourself and your vehicle while keeping more money in your pocket.
Call Steve's Imports at (503) 771-6701
---