Your Porsche Repair Specialists with a Difference.
Steve's Imports has been performing Porsche service for over 45 years! Steve and his technicians are true Porsche enthusiasts of early and late model Porsche. Dating back to the Porsche 356's, we have evolved with Porsche from the air cooled into the water-cooled era. We have the tooling and equipment for all early and late model Porsches including 356, 912, 911, 914, Cayenne, Macan, Boxter, and Cayman. We perform everything from basic maintenance to engine rebuilds on all early and late model Porsche.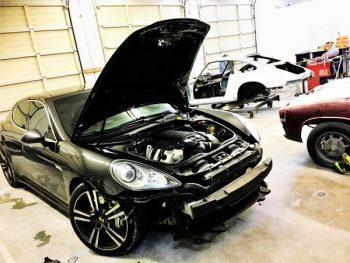 We understand the love you have for your car.
As Porsche owners ourselves, we understand Porsche owners. If you have questions or want to interview us before having us touch your prized possession, call us or just stop on by. We are happy to talk Porsche with you anytime.
We tailor service for you and your specific Porsche.
If you are just price shopping or you want to test our knowledge, no problem just ask. Even though it's not hard being very competitively priced with our Porsche service and auto repair, we do not pride ourselves on being the cheapest shop in town. We take pride in understanding these machines and their drivers. Every Porsche has a different story to tell and that takes time getting to know each one of these cars. As far as specialty Porsche timing equipment, IMS Bearing Update kit, Scanning Software and more, we are extremely tooled up for these cars with really sharp techs to work on them.
---
Porsches aren't like other cars. They're special. We know it and you know it. That's why we exercise the greatest care for your vehicle during every repair and procedure.
We aren't just Porsche mechanics, we're Porsche drivers. Maintaining the performance and handling you expect at a price you can afford is our first priority. Get more from your favorite driver. Call us today to experience the difference Steve's Imports can make for your Porsche.
---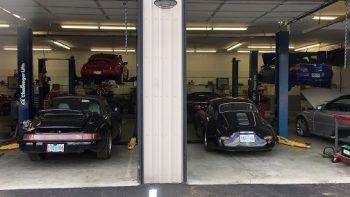 What are the most common Porsche problems we repair?
As a high-performance vehicle, every part in a Porsche has to meet strict tolerances. Problems can occur even with regular maintenance. A powerful engine puts a greater strain on the other parts in the vehicle. This effect can stack with aggressive driving. We know first hand. Common repairs on Porsche 964, 996, 986, 987, 981, 991, 997, 718, 981, and 930 cars include:
Oil Air Separator commonly known as the AOS
Precision all wheel alignments
Intermediate Shaft Bearing
Performance upgrades
Valve adjustments
Coolant expansion tanks
Timing chain and timing chain tensioners
Water pump and thermostat
Oil leaks, gasket leaks, seal leaks
Check engine light diagnosis and repair
Delayed shifting issues
ABS faults
Specific Porsche services we offer include:

– Porsche IMS Bearing
– Porsche suspension repairs and upgrades
– Porsche clutch replacements
– Porsche electronic and mechanical diagnostics
– Axles and joints
– Porsche engine performance
– Porsche service and maintenance intervals
– Porsche brake service and upgrades
– Porsche cooling system repairs
– Porsche timing chain upgrades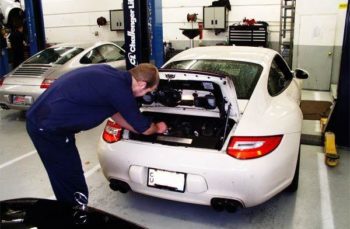 Contact us for Porsche repair in Portland.
Making sure your Porsche is in top condition requires a mechanic that knows your vehicle.
We live, breath, and drive Porsche's. They aren't just a vehicle we work on, they are in our DNA.
We treat your Porsche with the same respect and care we treat our own.
Get repair, maintenance, and service all in one place. Call us today.
Call Steve's Imports at (503) 771-6701
Nieghborhoods
Portland Downtown
,
Southeast Portland
,
Pearl District
,
Northeast Portland
,
Boise
,
Sellwood – Moreland
,
Portsmouth
South Portland
,
Rose City Park
,
Old Town Chinatown
,
Bridgeton, Portland
,
Brooklyn, Oregon
,
St. Johns, Portland, Oregon
,
Hawthorne, Portland, Oregon
East Portland
,
Mount Tabor, Portland
,
Southwest Portland
,
Cathedral Park
,
Multnomah
,
South Waterfront
,
Eastmoreland
Ladd's Addition
,
Laurelhurst
,
Montavilla
,
Lloyd District
,
Mount Scott – Arleta
,
Parkrose
,
Cully Association Of Neighbors
Arbor Lodge
,
Goose Hollow
,
Mill Park
,
Powellhurst-Gilbert
,
Brentwood-Darlington
,
Woodland Park
,
Sullivan's Gulch
Argay Terrace
,
Portland Heights
,
Hollywood District
,
Foster-Powell
,
Hosford-Abernethy
,
Creston-Kenilworth
,
South Tabor
Central Eastside
,
Parkrose Heights
,
Northwest Industrial
,
Glenfair
,
West Portland
,
South Burlingame
,
Healy Heights
North Tabor
,
West Portland Park
---