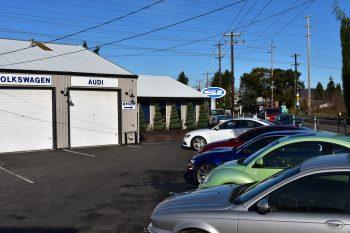 Audis are precision vehicles and they require precision repairs.
With more than 30 years repairing and maintaining Audis, we know how to provide fast and efficient for new Audis and classic vehicles.
---
What are the most common Audi problems we repair?
Engine Failures
Water pump leaks & impeller failure
Automatic transmission slipping
Purge valve stuck/leaking
Noisy drive belt tensioner
Intake plenum gasket leak
Leak detection pump failure
Camshaft position sensor failure
---
Suspension Failures
Strut & Shock mounts collapsed
Control arm bushing failure
Transmission & Drivetrain Failures
Transmission valve body failure
Transmission control module malfunction
Electrical Failures
Climate control malfunction
Comfort control module failure
Turn signal switch failure
Temperature sensor failure
---
What do you look for in an Audi repair shop?
Our technicians are certified and trained to work specifically on Audi vehicles.
Every one of our service technicians is ASE certified.
Our shop uses Audi specific tools including computers with Audi software, timing belt tools, camshaft locks, and more
We keep our technicians trained and up to date with real-time information on diagnosis and repairs.
Our experience servicing and repairing new and vintage Audi vehicles spans decades.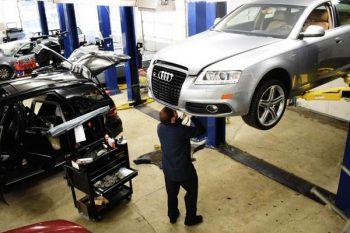 ---
Get more from an independent Audi specialist!
So whether you need an intermittent check engine light diagnosed or an engine rebuilt, we are grateful to tackle the most difficult jobs on your Audi. We also keep our rates affordable and will compete with dealership prices on pretty much every scope of repair.
---
Questions about your Audi? Call us now.
Because our auto shop was built on customer relationships, we don't treat you like a number.
We're happy to answer any questions you may have and really want to get to know you and your vehicle. The only bad question is the one you didn't ask that you wanted an answer to.
Our friendly technicians have all the answers, so don't hesitate to call or contact us today!
Call Steve's Imports at (503) 771-6701
Nieghborhoods
Portland Downtown
,
Southeast Portland
,
Pearl District
,
Northeast Portland
,
Boise
,
Sellwood – Moreland
,
Portsmouth
South Portland
,
Rose City Park
,
Old Town Chinatown
,
Bridgeton, Portland
,
Brooklyn, Oregon
,
St. Johns, Portland, Oregon
,
Hawthorne, Portland, Oregon
East Portland
,
Mount Tabor, Portland
,
Southwest Portland
,
Cathedral Park
,
Multnomah
,
South Waterfront
,
Eastmoreland
Ladd's Addition
,
Laurelhurst
,
Montavilla
,
Lloyd District
,
Mount Scott – Arleta
,
Parkrose
,
Cully Association Of Neighbors
Arbor Lodge
,
Goose Hollow
,
Mill Park
,
Powellhurst-Gilbert
,
Brentwood-Darlington
,
Woodland Park
,
Sullivan's Gulch
Argay Terrace
,
Portland Heights
,
Hollywood District
,
Foster-Powell
,
Hosford-Abernethy
,
Creston-Kenilworth
,
South Tabor
Central Eastside
,
Parkrose Heights
,
Northwest Industrial
,
Glenfair
,
West Portland
,
South Burlingame
,
Healy Heights
North Tabor
,
West Portland Park
---