Do you need a vehicle inspection in Portland?
Having your vehicle inspected isn't just right for a pre-purchase, it's a necessity. The last thing you want to do is purchase a lemon, but when else does reliability matter? Many vehicle owners don't think of getting an inspection in any other situation. The truth is that there are many other times when your vehicle should be inspected. At Steve's Imports we tailor our vehicle inspections to your needs.
Are you getting a customized vehicle inspection?
If your
auto repair
shop doesn't ask why you want your vehicle inspected, you aren't. We want to know your concerns, so we can tailor our inspection for you.
How can we inspect your vehicle today?
Used Car Inspection
Used cars need a full inspection. We inspect every component, but focus more heavily on the most worked components with a keen eye for hidden damage,
or covered damage. This is the best way to prevent buying a lemon. Even if you're passing down a car to a child, friend, or relative, a used car inspection can keep them from getting stranded by a problem you weren't aware of.
Road Trip Auto Inspection
Before you go on an extended trip, it's always a good idea to have your vehicle inspected first. These inspections focus much more heavily on the components of a car that typically breakdown after excess use or overheating. Particular attention is paid to inspecting the engine, drive train, transmission, and coolant system.
We'll help you get to your destination and back again.
Offroad Vehicle Inspection
Offroading and mudding are incredibly fun, but they'll push your vehicle to its uppermost limits. If you haven't brought your 4×4, SUV, or customized clearance beast in for an inspection before an outing, you might regret it. The middle of nowhere is the last place you want to get stuck, and a winch system won't always be enough. We'll help keep the "roading" in offroading.
What else do we provide for our customers?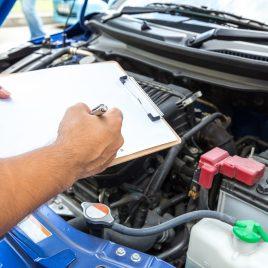 We work with vehicle sellers on your behalf. We'll accept a vehicle for inspection from the seller and send you the report. This is perfect for busy individuals or those who are buying from another location. You should never purchase a car sight-unseen. With a vehicle inspection in Portland by our trained mechanics, you can get peace-of-mind and know exactly what you're purchasing, what's right with it, and more importantly, what's wrong with it.
We take images of any vehicle flaws we find and send them to you. That doesn't just include major issues. We take pictures of dents, dings, and any questionable areas we locate. That provides you with the bargaining power you want during a car purchase. You shouldn't pay more than a car is worth. With our team on your side, you'll never have to.
Contact us to schedule an inspection today!
We can often provide same-day inspections. That means even "buy-it-now" sales types don't have to get under your skin. Give us a call, let us know your timeline, and we will do our very best to get your vehicle inspected as soon as possible. You aren't buying alone when our garage is on your side.
---