It's not necessarily enjoyable, but it certainly is inevitable: if you own a car, you will need to take it to a service center occasionally for repairs or routine maintenance. If you own a Mercedes-Benz, it goes without saying that you are focused on quality and expert workmanship. Sure, you could go to the local Mercedes dealership for repairs and service. However, there's a better option. You can trust the professionals in an independent shop for Mercedes repair.
Why the Best Option is an Independent Mercedes Repair Shop
When you go to a dealership to have your Mercedes serviced, you have the peace of mind of knowing that the technician working on your car is factory trained and intimately familiar with Mercedes vehicles. When you visit a dealership, you know you are receiving only the highest-quality parts for your car. What you may not know, though, is that you can get the same skilled service and quality parts from qualified Mercedes-Benz independent repair shops. Furthermore, when you take your car to a qualified independent Mercedes-Benz service center, you'll enjoy service that's probably more convenient, more affordable and more attentive to your needs than what a dealership would provide. You just need to find an independent Mercedes repair shop in your area. Read on for some tips on how to do so.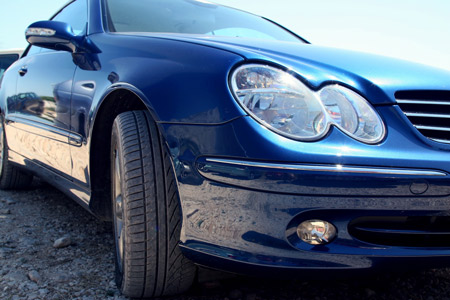 Do You See the Iconic Mercedes Logo?
Any shop can market itself as an "independent Mercedes service center." You'll know that the marketing is truthful if you look around and see the Mercedes name and logo on diagnostic tools and if you see a parking lot full of Mercedes vehicles. If you visit a shop touting itself as a "Mercedes specialty shop" and notice its bays full of domestic and Japanese vehicles, keep looking; that's not the shop for you!
The Proof is in the Certification
Just as doctors proudly display their diplomas on their office walls, Mercedes technicians proudly display their certifications. Look for these certifications to verify that are truly working with an expert. Additionally, ask the shop what professional associations it belongs to and any awards it may have received from industry groups. Typically the best certifications to have in a repair shop are the ASE certification and the AAA certification.
ASE Certification
For a technician to be certified by ASE, they must pass the official test, have two years of on the job training or one year of on the job training along with a two year degree in automotive repair. To keep their certification, they must retake the test every five years. This keeps all the technicians up to date on advanced automotive technologies. ASE certifies a variety of different specialties, as they have over 40 different exams to test a mechanics knowledge of different skills.
AAA Certification
AAA provides an accreditation to authorized Auto Repair and Maintenance Facilities that satisfy rigorous quality standards. It needs a yearly review and detailed assessment. They visit the shop, review all documents and our specialist accreditations, and verify that all of these meets their requirements. They evaluate the state of the store, its tidiness, and its company against their requirements and then authorize or let us know anything to alter or upgrade before they offer us AAA Certification. Due to the fact that it validates that we value these requirements and are holding ourselves liable for our work and facility, we keep this certification!
Ask for Referrals
For any business in any industry, the most valuable referrals are those that come from satisfied customers. Before you trust any repair shop with your prized Mercedes, secure recommendations from friends, co-workers, and neighbors you trust. If you hear one independent Mercedes-Benz service shop mentioned again and again, that's a good sign. Make that repair shop your first stop. Hopefully, you'll go from being a new customer to a satisfied customer who can educate other Mercedes drivers looking for a quality repair shop.
We are Here Help You and Answer Your Questions
Before signing on the dotted line to authorize complicated repair work, any informed consumer is bound to have questions. Before you trust any shop (dealership or independent Mercedes repair shop) with your car, make sure the management and staff take the time to answer your questions in a thorough, friendly, non-hurried way. If you feel you are being rushed or brushed off, move on. Any shop that doesn't value your questions isn't worth your time. Steve's Imports should be your first choice for all of your Mercedes repair needs. All of our mechanics are factory trained and ASE certified, so you're getting quality Mercedes repair that you can count on. We are the Mercedes repair shop that you can trust!