Skip Voodoo and try the best donuts in Portland.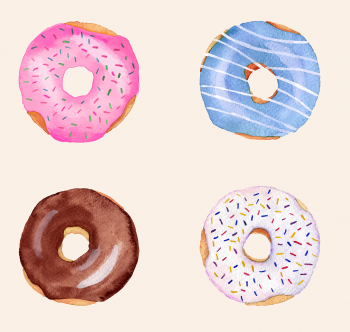 While the rest of the world might consider Voodoo donuts to be the best Portland has to offer, they don't live here. If it tastes good and flies out the door, you can bet there are companies with their eye on innovating the status quo. Voodoo may have started the revolution in 2003, but many other donut shops have made a major impact since then. Fuel up at one of these amazing bakeries before you stop by our auto repair shop in Portland—it'll make our affordable prices that much sweeter.
Elevate your favorite breakfast dessert at Blue Star Donuts
Blue Star Donuts does what Voodoo does without all the fanfare. This isn't a local secret as much as it is the donut shop for eaters in the know. Though the lines seem to increase every day, it's worth it when you know the quality of the product. A specialized confection at Blue Star isn't a rebranding using cereal or strange toppings. They take gourmet flavor combinations like lemon poppy seed and blueberry bourbon and apply them to donuts. This bakery turns donut making into an elegant art and brings the humble donuts up to a table previously reserved for souffle and tarts.
Donuts on the go with Pip's Mobile Doughnuts & Chai
You don't have to go to donuts when donuts can come to you. Though their shop on Fremont St. is a great place to get fresh donuts, Pip's has a mobile fleet capable of producing the same high quality wherever you find them. Their prices cannot be beaten, especially when it comes to their donut hole deals. Guests frequently cite the Nutella & sea salt combination as a favorite. Pair that with raved about Chai Tea and you have the perfect breakfast combination.
Looking for something different? Try Fleur De Lis Bakery and Cafe
When you think of a donut you likely think of a classically American take. At this French bakery, they put a different twist on the donut, and this is the only place in Portland you can try one. For a taste like no other, visit Fleur De Lis and ask for a potato donut. This take is similar to a potato cake that's been dipped in cinnamon and sugar. You won't find another like it in the whole of the city, and that's what lands this bakery on our list. They may only have one donut, but it's well worth the trip.
Domo arigato Mr. Doughboto.
Get the factory made precision of a robotically crafted doughnut without missing that human touch. Donut Byte Labs sells affordably priced doughnuts, cooked by a robot and finished by hand. They have a wide range of flavors and cutting down on the cooking lets the staff focus on the flavors. Just make sure you order ahead of time. A robot is still restricted by time, and batches are made every 1-4 hours and cooled for an additional 2 hours before toppings are added.
Now that you know.
Now you know where to go for the best donuts in Portland. If you're planning a day at a beautiful local garden then doughnuts are  a great way to start your morning out right. They're also good if you've got something a little more out there to do.