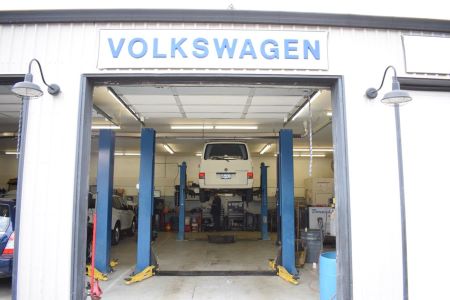 For many years, Volkswagen has been one of the most popular auto manufacturers in the world. In its native Germany, Volkswagen vehicles are the top-selling brand; in 2014, one in every ten cars sold was a Volkswagen product. Even worldwide, Volkswagen stands among the best, having sold more vehicles than any other company in 2017.
Here at Steve's Imports, we love these iconic vehicles – so much so that our business' original name was "Steve's VW"! We got our start working on early air-cooled VWs, so we can't help but have a soft spot for them. From the original
VW Beetle
to the modern Rabbit models and everything in between, we've seen them all. Here we'll look at a few facts about these cars and the company that makes them.
A Brief History
The German government Ferdinand Porsche, and started Volkswagen in the year 1937 with the intention of building cars for the German public at an affordable price. "Volkswagen" is a combination of the German words for "people" (volk) and "car" (wagen) – "Volkswagen" therefore translates to "people's car."
Very few German citizens owned cars at this time, with most vehicle owners instead riding motorcycles. These cars were intended to be easy to maintain and inexpensive so as to become a staple, affordable family vehicle. On top of their affordability, they were also built to last.
And indeed they have lasted. Despite many ups and downs over the years, Volkswagen as a company has endured the test of time and remains one of the most successful auto producers in the world. Their cars have a reputation for fuel efficiency and endurance. With a bit of regular maintenance, Volkswagens have been known to last for many, many years.
Volkswagens were first sold in the US in 1949. It was a slow start, and Volkswagens still hold a relatively small share of the American auto market, but they are still hailed as excellent vehicles around the world. There are even a couple of VWs from the 1930s and 40s that still exist today!
Volkswagen as a company is not without its controversies – we all remember the diesel scandal of 2015. However, the company has pledged to change people's minds about VW's environmental efforts. Through recycling, remanufacturing, increased use of eco-friendly fuels, and many other initiatives, VW has set many goals to lower its environmental impact.
In more recent years, Volkswagen has committed to producing more environmentally-friendly vehicles. They'll build more and more electric and hybrid vehicles in the future. They committed to launching 30 models of electric vehicles by 2025 and aim to have electric versions of all their existing models by 2030 – passenger cars and commercial vehicles alike.
 A Few Fast Facts
– The original Volkswagen Beetle was among the bestselling cars in the 20th century as a whole, selling over 21 million cars.
– In 2014, one in every ten vehicles sold in the world was a Volkswagen. The same year, one in every three cars sold in Germany was a Volkswagen.
– Around the world, speakers of many different languages have their own nicknames for the iconic Beetle. To English speakers, it's a "bug." Spanish speakers might call it a "cucarachita," or "little cockroach." The French call it "coccinelle," or "ladybug." In Bolivia, it's nicknamed the "peta," or "turtle."
– During their first year selling in America, Volkswagen only sold two cars. By 1955, however, the Type-1 Beetle had sold a million copies.
– Volkswagen is looking into the possibility of flying cars! While it's still very much in its early stages, "vertical mobility" is something the company is exploring.
– The original VW Beetle was produced for 65 years – from 1938 to 2003. The New Beetle was produced from 1997 to 2010, and the A5 ceased production in 2019.
– Volkswagen also produces engines for boats, steam turbines, turbochargers, and even chemical reactors.
– Despite its underperformance in America in recent years, Volkswagen saw the most significant sales of any car producer in 2017, having sold over 10 million cars worldwide.
– Despite its prominence in its home country Germany, Volkswagen's largest presence is in the Chinese market. In 2017 they sold over 3 million vehicles there.
– An axel stop from a VW Type-2 Bus inspired the popular dog toy KONG. A German Shepherd named Fritz, an enthusiastic chewer, got his paws on this car part sometime in the 1960s while his owner was working on the vehicle. His owner, Joe Markham, went on to found the dog toy company KONG.
– During the 2008 recession, a stock market squeeze made Volkswagen the most valuable company on Earth – for a single day. On October 28, 2008, Volkswagen's share prices quickly rose to almost $1,300, then fell back to previous levels over the following weeks.
– There are a handful of very old Volkswagens still in existence. An organization called the KdF-Wagen Registry keeps track of these old vehicles and restores them. They list three 1938 Type-1 Volkswagens among their collection; these cars are over 80 years old!
– Ferdinand Porsche designed the Volkswagen Type-1. The process from planning to prototype only took him ten months.
– The Volkswagen Group owns many subsidiary companies. They also own Porsche, Lamborghini, Bentley and Bugatti – among other makes not imported to the US.
Come to Steve's Imports for All Your VW Needs!
Here at Steve's Imports, we have a passion for Volkswagens. We've worked on these cars the longest of any of the brands we service – from the very start of our company in 1976. If you have a problem with your VW, we can fix it. Our technicians have seen so many VWs that common problems and their solutions are second nature, we own factory VW equipment and diagnostic computers. We offer restorations as well, for older vehicles in need of a pick-me-up. Chances are, if you've got a VW question, we have the answer on hand. If you and your VW are on the market for an auto repair shop in Portland, you need look no further. Check out our website and give us a call today!