Summer is just around the corner, and for many people, that means road trips, beach days, and plenty of time spent behind the wheel. However, before you hit the open road, it's important to make sure your car is ready for the summer months. Hot weather can take a toll on your vehicle, so preparing it now can help you avoid breakdowns and keep you safe on your summer adventures. In this guide, we'll take a look at some of the key steps you can take to get your car ready for summer, from checking your tires and ensuring your air conditioning is working to taking your car to a car mechanic to ensure it is in top shape.
Get a Car Wash and Vacuuming
As winter draws to a close, it's time to start thinking about undoing the damage that harsh winter conditions have done to your vehicle. Road salt and grime from melted snow can wreak havoc on your car's clear coat, paint, and undercarriage. The summer is the perfect time to give your car a well-deserved detailing. Not only is the weather more favorable to get a car wash, but a thorough cleaning job will last much longer. Also, take advantage of the vacuuming machines you can find at many car wash places to clean out the inside of your car too.
Be Sure Your Air Conditioning is Running Consistently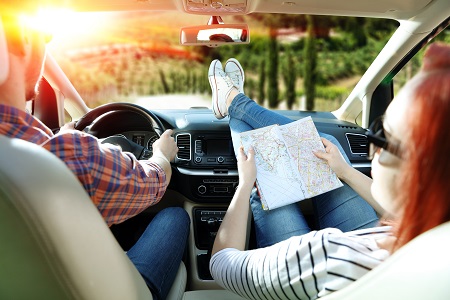 As temperatures rise, many of us are eager to turn on our air conditioning systems and cool off. However, before you do, it's important to have your cooling system checked. This simple step can save you time, money, and a lot of discomfort down the road. Repair shops often offer this service at little to no cost, making it an easy and affordable way to ensure your system runs efficiently.
Additionally, it's worth having your battery checked as well. Hot weather can take a toll on even the strongest batteries, and knowing how much life is left in yours can prevent a breakdown and the costs that come with it. Keep the heat from getting the best of your car – take advantage of these simple, low-cost checks and keep your vehicle running smoothly all summer.
Check Tires and Tire Pressure
As a responsible car owner, it is crucial to regularly inspect the condition and inflation pressure of your vehicle's tires. Taking just a few minutes to do so can ensure optimal performance and safety on the road. Be sure to refer to your owner's manual or the sticker posted on the driver's doorframe for the correct tire pressure reading. Don't rely on the number printed on the tire, as it may not be accurate. Maintaining proper tire pressure and condition can improve your car's fuel efficiency and minimize the risk of accidents or blowouts, ultimately keeping you and your passengers safe.
Notice Your Brakes When You Drive
Ensuring your brakes are functioning properly is crucial for your safety on the road. A grinding sound or vibration when applying the brakes may indicate an issue with your brake system. Your pads may also be starting to wear down if you notice your brakes aren't functioning normally. Take your vehicle to an auto repair shop for a brake inspection before things get worse. A service professional can check the entire system and assess the condition of pads, rotors, shoes and drums. If repair or replacement is needed, your auto repair professional should be able to take care of it for you.
Check Fluid Conditions and Flush Cooling System
Oil is the essential lubricant that keeps your vehicle's engine running smoothly. It's been called the lifeblood of your car for a good reason. The oil lubricates, cools, and cleans vital engine parts, preventing the engine from overheating and reducing wear and tear. Changing your car's oil every 6 months or about every 5,500 miles is the recommended interval to ensure that your engine remains in top condition, particularly in hot weather conditions. When you plan on driving heavily during the summer months, your engine will work harder than normal, making it prone to overheating. Therefore, it's important to check your coolant level before setting off on family trips and to check it regularly along the way to avoid any potential engine problems. It is recommended to flush your cooling system every 3 years, and do not add chemicals such as stop leak to your cooling system.
Check Wiper Blades and Windshield Cleaner
Wiper blades are essential in ensuring clear visibility while driving, but did you know that they naturally deteriorate over time? If you notice your wipers leaving streaks or failing to thoroughly clean your windshield, it's time to replace the blades. Additionally, it's essential to keep your windshield washer reservoir filled with fluid specially formulated to remove insects and other debris. A quick test of the nozzles will ensure that they spray adequately and can clear the windshield effectively. Wiper blades experience more wear and tear during summer months than rainier winter months.
Be Sure To Have Your Car Parked in a Shaded Area If You Can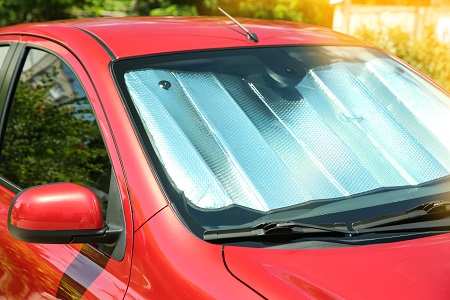 As summer approaches and temperatures start to rise, it's important to take care of your car just as much as you take care of yourself. Hot days can have harmful effects on your car's exterior and interior, leading to costly repairs. Luckily, there's an easy solution: park your car in the shade whenever possible! Not only will this keep you cool, but it can also keep your vehicle cool and prolong its life. But, if you can't find a shaded spot, don't worry – having window shades in your car can offer protection against the damaging effects of the sun's rays such as a cracked dash or UV died upholstery. Take care of your car, and it will take care of you!
Get Your Vehicle Serviced
Did you know that many of the necessary checks can be done in just one visit to your dealership or a qualified mechanic? Well before hitting the road or early on in the summer, it's important to have your fluid levels checked, the engine and exhaust systems inspected, and electronic components tested. A little proactive maintenance now can help prevent unexpected breakdowns on your summer adventures. So don't let the thought of a long checklist overwhelm you – schedule a visit to your dealership or mechanic today.
Here are some of the car parts a mechanic can look at for you:
Battery inspection
Hoses and belt inspection
Cooling system
Air conditioning/ air filter inspection
Tires and brakes
Steve's Imports Can Help You Prepare Your Car for Summer or Summer Road Trips
At Steve's Imports, we take our car mechanics seriously. That's why we rely on the National Institute for Automotive Service Excellence (ASE) for all of our technician training. Our team of highly-skilled professionals are experts in industry best practices and bring their knowledge to every vehicle they work on. No matter what your car needs, our ASE-trained technicians have got you covered. We can inspect, diagnose, and repair any auto parts your car needs to get it ready for summer traveling. With over 45 years of experience making both cars and customers happy, we've seen it all.
Trust our skilled technicians when we say that if you need the best auto repair shop in Gresham, you need to come to Steve's Imports or contact us.
The auto repair services we provide:
Transmission Repair
Brake Repair
Regular Maintenance
Check Engine Lights
Engine Repair
Clutch Repair
Brake Pad Replacement
And much more!
For more information about our auto repair shop, visit our About Us page.