As the world becomes more conscious about the environment, eco-friendliness has become a top priority in many aspects of our lives, including transportation. One way to reduce your carbon footprint is by making greener choices for your car or investing in an eco friendly car. Most newer model vehicles have such low emissions and higher MPG that they have little to no impact on the atmosphere. Even newer model trucks will emit close to zero hydro carbons while at freeway speeds. Fortunately, there are several ways to achieve more environmental vehicle habits, from simple driving habit changes to how you wash your car. In this article, we'll share some tips on making your car more environmentally friendly, helping you to contribute towards a sustainable future.
Wash Your Car Yourself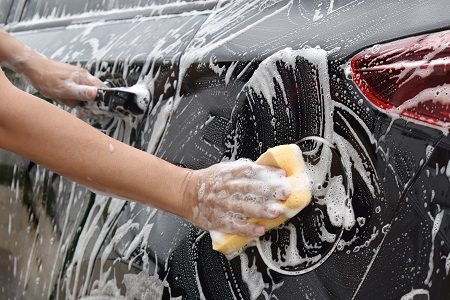 While commercial car washes might seem like an efficient solution, it's worth considering the environmental impact of their methods. On average, these car washes can use up to 50 gallons of water per car, and the effectiveness of their cleaning solutions often depends on harsh chemicals that can harm the environment and your vehicle. Taking the time to do the job yourself, using a few gallons of soapy water in one bucket and a few gallons to rinse in another bucket, not only saves water and reduces your carbon footprint but allows you to take a hands-on approach to care for your car. With a little care and attention, your car can shine as it did when you drove it off the lot.
Use Green Interior Cleaners
Maintaining a clean and hygienic indoor environment is important for personal health and aesthetics. However, the harsh chemicals in most commercial interior cleaners can be harmful to not only our respiratory systems but the environment as well. Fortunately, with the increasing awareness of this issue, ammonia-free interior cleaners have become widely available. These natural cleaners use scented oils and cleaning agents that are effective and safe. Using these products allows you to breathe easily, knowing that you are not harming yourself or the world around you.
Use Eco-Friendly Tires and Check Tire Pressures
If you're looking to take control of your car's efficiency, consider investing in high-efficiency tires with reduced rolling resistance. These tires will not only save you money in the long run, but they'll also boost your car's MPG rate. And always make sure your tires are properly inflated. Low tire inflation is a killer on gas mileage. 
Check Your Car's Emission System/ O2 Sensor
While some drivers may overlook the importance of oxygen sensors, experts agree that taking care of these vital components can make all the difference in the car's overall performance and efficiency. In fact, a single dead sensor can reduce your car's efficiency by up to 40%, which can have a significant impact on both your wallet and the environment.
Decrease Energy Use
As much as we love the convenient features our cars offer us, such as the AC defrosting setting and seat heating, it is important to remember that these luxuries come at a cost. With everything powered in our cars using gasoline, it is crucial that we use these features sparingly to conserve energy whenever possible. While it may be tempting to crank up the AC on a hot summer day, rolling down the windows and enjoying the fresh air can be just as refreshing. So, let's do our part in reducing our carbon footprint and remember to turn off these energy-sucking features when they are not absolutely necessary.
Accelerate Slowly and Brake Slowly
The faster you go, the more fuel you burn, and if you're not careful with your acceleration and braking, you're going to lose out on gas mileage. However, there's a better way to save on gas usage. By lowering your speed and avoiding rapid acceleration and rough braking, you could cut your gas usage by up to 30% at highway speeds. By driving smarter in this way, you can decrease your carbon footprint by eliminating unnecessary gas emissions and saving money.
Don't Let Your Car Idle for Long Periods of Time
As Americans, we are constantly on the go, which often means spending time behind the wheel of our cars. While sitting in traffic or waiting for someone to grab a quick coffee, we may not give much thought to the amount of time we spend idling our vehicles. However, the reality is that idling for just five to ten minutes per day can have a significant impact on our wallets and our environment. In fact, idling for just 10 minutes can use as much fuel as it takes to travel 5 miles! According to the Environmental Defence Fund, 10 seconds of idling wastes more gas than restarting your engine. Additionally, an idling car can release as much pollution as a moving car, especially if it is a larger vehicle or has a diesel engine.
Invest in a Low Emissions vehicle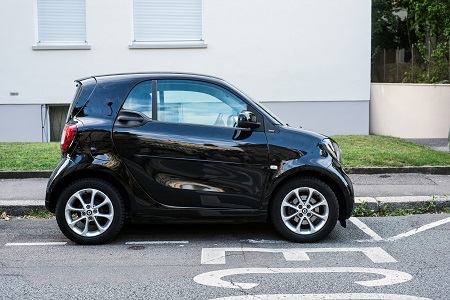 With the rise of environmental concerns, many people are turning to eco-friendly transportation options. Hybrid and electric cars are considered among the most environmentally-friendly options out there, as they use electricity as fuel and generate fewer emissions compared to their gas-guzzling counterparts. Additionally, electric cars, produce zero CO2 when charged with clean electricity from renewable sources. Furthermore, using cleaner fuels and fuel-efficient cars can reduce emissions by as much as 80% compared to gasoline. Not only are these vehicles kinder to the environment, but they also use less fuel, resulting in significantly fewer pollutants.
Keep Up with Your Maintenance Schedule
Regular car maintenance is one of the most important things you can do to ensure the longevity of your ride. Timely maintenance, in particular, is a golden green tip that can save you countless dollars in premature repairs and increased fuel consumption. Neglecting your engine's upkeep can lead to added expenses and a sluggish response when you hit the gas pedal.
Replace your air filters– cleaner air is something we all strive for. Whether it's for health reasons or environmental concerns, the importance of reducing emissions cannot be understated. A simple yet effective way to achieve this is by maintaining your engine's air-filter.
Change oil regularly– routine oil changes are essential to maintaining a well-functioning vehicle. Not only do they keep the engine running smoothly, but they also reduce harmful emissions. Regularly changing your oil can improve your vehicle's emissions. Most importantly, by keeping up with this simple maintenance, you can reduce wear on your engine and ultimately extend the life of your car.
Stay Green and Get Regular Maintenance and Repairs from Steve's Imports
At Steve's Imports, we understand the importance of caring for your Smart Car or other German car so it continues to work as efficiently as possible. Our team has expert German car knowledge and will provide exceptional service that keeps your Smart Car running smoothly. Whether you require simple maintenance or complex repairs, our experienced technicians will ensure that your Smart Car is in top condition. Trust us with your Smart Car needs, and we'll give you peace of mind that it will always work at peak performance.
Contact us today to get your Smart Car or other German vehicle into our shop for maintenance or repairs.
Smart Car services our expert mechanics offer:
Full Vehicle Maintenance & Repair
Oil Changes and Filter Services
Tire Repair
Transmission Repair
Engine Repair
And More
Visit our About Us page for more information about our auto repair shop.