Many people tend to overreact when alerted about a possible problem with their car and may end up getting unneeded repairs that are costly in both time and money. However, this is not always the case. There are a few key things to look for and ask questions about before agreeing to any auto repairs. The following will tell you whether the recommendations from your local auto repair shop in Clackamas are necessary.
Number of Years in Business
A new automotive repair facility may give you apprehension. It is not wrong to bring your vehicle to a new shop; however, it is a good sign if the shop you are using has been in business for a long time. It shows that they are well established and have a good enough reputation to survive hard economic times. It also makes sense that a reputable company with years of experience is more likely to get your car fixed right the first time. Ensure you check into this before leaving your vehicle there for any repairs.
But years in business shouldn't be your only concern; a good reputation is also necessary for any business. If you are visiting an auto repair shop with a good reputation, then it's likely that you will be getting your car fixed the right way. You can usually gain a good reputation by having fair prices, excellent customer service, and a willingness to fix any problems that may arise instead of simply ignoring them. Remember, not everyone is perfect, and mistakes do happen. What separates the good shops from the not-so-good ones is whether or not a shop is willing to own up to a mistake and make it right.
Repairs Are Reasonable
If the cost of repairing your vehicle seems unusually high to you, then it may be worth getting a second opinion. While there are reasons why certain repairs may cost more than others, the automotive repair shop may simply be charging you for parts and/or labor that are not competitively priced. If you find a quote from a competitor to be noticeably less expensive, then give your shop an opportunity to review the quote and compete with the competition's quote. You will find one of three things: 1. Your shop may find that the competitor's quote is missing important details such as parts, labor, or a good warranty that should be considered in the quote or repair estimate. 2. Your shop may be willing to lower its margins to come under the competitor's quote. 3. Your shop may not be willing to move on price due to various reasons. At that point, you can make a more educated decision as to whether or not you want to continue using this shop for service. 
This also brings up the issue of estimates. If your auto repair shop is not willing to provide free estimates to customers for the repairs to be made, then this should be a red flag. Not to be confused with diagnosis. Diagnosis involves expensive testing equipment and A-level technicians to troubleshoot a problem; it is a service that should be charged for. An estimate is an itemized list of parts and labor with prices to perform the service needed. If they are honest, they should have no problem providing you with an estimate.
Using a Technician You Trust
If you want to keep your car in tip-top shape and avoid costly restoration services in the future, then choosing an auto repair shop with a competent mechanic who will help you determine if the fixtures are necessary or not can go a long way. A mechanic you trust can help you make a better choice of whether or not repair services are necessary.
At the end of the day, it all boils down to responsibility and good business practices. Repair facilities with a proven track record will have no problems answering your questions thoroughly and being open about costs before anything is done on your vehicle.
Customer Service
A good reputation can only take you so far; people will go elsewhere if the customer service is not good. You want to make sure that you visit an auto repair shop where the customer service is excellent, and everyone at the office seems to enjoy working there.
Even though this is a critical aspect of any business, it may be especially so when it comes to auto repair services. Their primary goal should be to keep your car in good running condition for as long as possible. The longevity and safety of your vehicle should be the priority of a good shop, more than saving you money. If your primary goal is to save money more than maintain the longevity of your vehicle, then that should be a conversation you have with your shop before approving repairs on your vehicle. If the quality of service to customers is not that great, you may likely get more problems with your vehicle than necessary, which will cost you more money and give you a headache.
Licensing and Insurance
It might seem like a given, but before going to any Clackamas auto repair shop, make sure that they are licensed and insured to perform the work on your car. Some companies will try to cut corners and not insure their employees or get the proper licensing for their work.
If you happen to come across one of these auto repair shops in Clackamas, it's best that you keep looking for another one as there are plenty out there who do operate above par.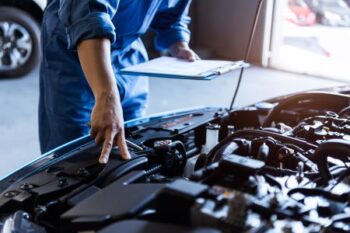 Due Diligence
If you have found an auto repair shop that you are interested in working with, you should do your research before handing them any money or letting them work on your car. This is more than checking reviews or prices. One of the best indicators is whether or not the shop team members are willing to talk to you about your vehicle and show interest. If you are ignored and if the shop team member you are talking to does not like to answer questions, that could be a sign that they are not interested in helping you or your vehicle.
According to Consumer Reports, "Auto-repair shops and dealers who have been sued multiple times for filing fraudulent mile warranty claims are required to post a notice in their waiting areas informing customers of their right to an estimate." This will not only tell you if they have been sued before, but it will also let the shop know that they are under scrutiny and will hopefully force them to work above board.
Getting a Second Opinion
Ultimately, your final decision should be based on the information you have gathered and how it all fits together. Do not act too quickly! If your vehicle repair estimate seems excessive for what it is or if the technician recommends any major repair, it might be worth getting a second opinion. Keep in mind that it is important that a shop, if condemning another shop's estimate or repairs, should be willing to communicate. It shows goodwill and gives your original shop the opportunity to address the situation and become a better shop or even offer a solution to the current situation.
Conclusion
You can save a lot of hours and money by doing your homework before going to an auto repair shop. Know what type of repair services they specialize in, how long the labor warranty is for their work, and if they are certified and insured. Any other pertinent information that will help ensure you get quality service at a fair price from someone will come in handy. Your vehicle needs regular maintenance to keep it running smoothly, so don't be afraid to come to our auto repair shop for repair and services you can trust!
FAQ
At what point is a car not worth fixing?
If the cost of repairing your car is more than what it costs to replace your car with an equivalent vehicle of good mechanical condition, then you should reassess having repairs performed. Many cars are far more or less than blue book value. Economics can heavily influence a vehicle's value. And special interest vehicles do not play by the same rules as average economy vehicles. So please do your homework before making a decision to or not to repair your car.
How many years should you keep a new car?
There is no set number of years you should keep a vehicle. It depends on how well you care for it, what maintenance has been performed on it, and what problems your car currently has.
What is the most important maintenance on a car?
The most important maintenance for your vehicle is based on your vehicle's consequences and safety. Fluids are crucial. If your vehicle runs out of oil or coolant, then damages can be catastrophic. Items and basic as tires and brakes can also be detrimental to your safety. This is why bringing your vehicle to a shop that performs an in-depth safety and courtesy inspection.