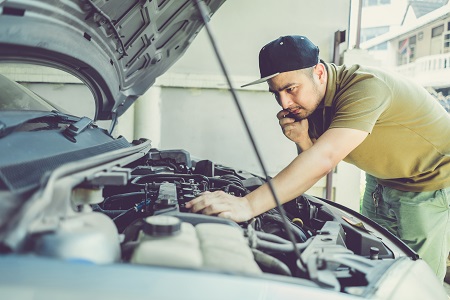 There are many reasons why people choose to do their own automobile repairs. Maybe they're trying to save money, or maybe they lack trust in their nearby shops. Whatever the motivation, you should know that there are some risks associated with DIY automobile repairs, and it's important to consider them before you decide whether or not to tackle the job yourself. This blog post will discuss some of the risks associated with DIY auto repair.
What are the major auto repair issues?
Cars experience excessive wear and tear over time, and several car repair issues can arise. The most common car troubles include the following:
What are the dangers of DIY auto repair?
Conducting your own car repairs can be tempting, especially if you don't have the budget to hire a professional car mechanic. However, some of the risks involved include the following:
You might make the problem worse
One of the biggest dangers of DIY car repair is the potential to worsen the problem. If you don't have experience with vehicle repairs, it can be challenging to diagnose the problem correctly. Even if you diagnose the issue, you may not have the skill and knowledge to fix it properly. Conversely, you may compound the problem by making a mistake during the repair process. Also, diagnosing the issue may involve component removal such as failing transmission valve body. However, once you remove the pan to inspect, you may not have a torque wrench, AST fill tool and pump, nor computer to properly reinstall the pan, refill the ATF and check the temperature. This could cost you a tow bill to your repair professional as well as the repair. 
Poor results
Trying to fix damaged car parts yourself can be tempting, especially when repair or replacement costs are excessive. However, taking on a project like this can often result in an inferior outcome. It can be difficult to make a noticeable difference without the proper tools and expertise. Furthermore, if you don't use the right materials or procedures, you may find your repair efforts fall short when confronted with more extreme conditions like extreme weather,  rough roads or demanding driving habits. By entrusting an expert auto repair professional, you can rest assured that your car will hold up over time.
You could injure yourself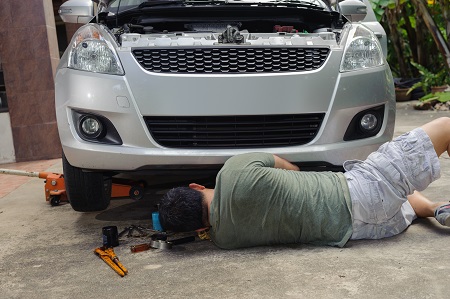 Another risk of DIY car repair is the potential for injury. Automobile repairs often require the use of heavy load tools and equipment. Without enough experience using these tools, there's a chance you could seriously injure yourself. For example, thousands of jack stands were recalled by Harbor Freight due to the risk of vehicles falling on vehicle owners. Additionally, many vehicle repairs require working in tight, cramped spaces. This can also lead to injuries if you're not careful. Also, if you don't have adequate safety equipment, you could be putting yourself at risk.
You might void your warranty
If you have a new car, likely, it's still under warranty. Many warranties explicitly state that a professional must conduct repairs for the warranty to remain valid. So, if you choose to conduct your own vehicle repairs, you could void your warranty, and the parts you install may also void the warranty on your powertrain or drivetrain. This could cost you a lot of money if something goes wrong with your car, and you could void your warranty from the manufacturer.
You will not qualify for a labor warranty
If you do your own repairs, your parts store may warranty your part. However, you will not be covered for your lost time. And you will be re-doing your repair. 
Auto repairs can be expensive
Another risk of DIY repairs is the potential cost. Automotive repairs can be very expensive, depending on the problem. If you have no experience conducting vehicle repairs, you could end up spending more than you would have if you had hired a professional technician. Additionally, if you make a mistake during the repair process, you could end up causing more damage to your car, which would also cost you more money.
It may complicate your car insurance claim
If you have an accident and your car needs repairs, the insurance company may not be willing to pay for the repairs if you conducted them yourself. This is because DIY repair is sometimes done to different standards than professional auto repair work. And typically a TIN is mandatory for Insurance Reimbursement. As a result, it's essential to consider whether or not to conduct your own auto repairs.
Vehicle repairs can be time-consuming
Another risk of conducting DIY auto repairs is its potential to take a long time. Automobile repairs can be very time-consuming, especially if you're unfamiliar with the process. If you have a busy schedule, it might be better to hire a professional mechanic to repair your car as soon as possible.
You could cause further damage to your car
Another risk of DIY automobile repair is the potential for damaging your car. Even if you do manage to fix the problem, there's a chance that you could cause other problems in the process. For example, if you don't know how to use power tools, AST tools, have access to online diagnostic and repair manuals, then there's a chance that you could damage your car far beyond your current needed repairs. 
How can I avoid frequent automobile repairs?
There are a few things you can do to avoid frequent car repairs:
– Regularly maintain your car according to the manufacturer's recommendations. This includes changing the oil, checking the fluids, and performing the complete manufacturer inspection as well as your shops in house inspection. Do not do the minimum oil change only. Make sure your vehicle gets the attention it needs.
– Avoid driving in hazardous conditions whenever possible to reduce the chance of car accidents. This includes things like driving in heavy traffic or bad weather.
– Don't wait until there's a major problem to take your car to the automotive shop. If you notice something wrong, bring it in for a checkup to fix the problem before it becomes more serious.
Need professional car repairs?
At Steve's Imports, we have qualified and certified mechanics who can help you with your car repair needs. Our shop boasts the latest tools and equipment, and we use only the best parts for our repairs. Our team of mechanics offers various services, including oil changes, brake repairs, engine repairs, diagnostics, and much more. Contact us today to schedule a visit to our auto repair shop in Gresham!
Here are the related services we provide:
Gresham auto repair services

Engine repair

Electronic repair

Suspension repair

Brake repair

Check engine light repairs
Visit our About Us page for more information about our company.