There are numerous auto repair shops out there with different services, specializations and ways of doing things. So, before you take your vehicle to the shop, it's crucial to know what to expect from the service provider. Researching the company is something you'll want to consider if you want the best service for your car. Here are some of the indications of a good auto repair shop:
Experienced and Professional Mechanics
First and foremost, you'll need to know that your mechanic is experienced and professional. An auto repair shop should hire only the most skilled and trained professionals for this job. The shop should have a reputation for good work too. A real professional will be invested in your car and not just trying to make a quick buck.
A Reputation For Quality Work
You can find out if an auto repair shop has a good reputation by speaking to people who have used the shop before. To make this easier, ask your friends and family what auto shops they've been to in the past. Also, check what previous customers are saying about the shop online.
You want to check how satisfied previous customers are with the work done on their cars. Ask around and look at reviews online, and if a large number of people say they were happy with their services, you know your vehicle will be in good hands.
Affordable Cost Of Work And Parts
While it's good to find a car repair shop with a good reputation, you should also be looking for one that provides reasonable pricing. Prices may vary from one mechanic to another, so it's best to find something budget-friendly. If your auto repair work costs more than what you can afford, you may have to resort to financing it, which can add up.
Reliability
Look for a reliable and reputable mechanic. These are the types of mechanics who will give you good service and not try to overcharge for their work. The most important thing is to find a mechanic that you can trust. Make sure that this trusted mechanic has experience working with cars like yours before bringing your car into their shop. You should be able to trust that your repair work will be done professionally and completed in good time.
Timely Feedback
If you have any questions about auto repair, talk to your mechanic about them before they begin working on your car. This way, you can save money by preventing them from doing unnecessary work.
Good communication is very important. You'll want your mechanic to be able to give you feedback on the process of their work and the state of your vehicle.
OEM (Original Equipment Manufacturer) Parts
If you're planning to get bodywork done on your car, you'll need to consider whether the auto repair shop will be using original equipment manufacturer parts.
There are many reasons why this is important. Using OEM parts can help restore your car to good condition more effectively, and it may even boost your car's resale value in the future. This is also something that some insurance companies require their customers to do.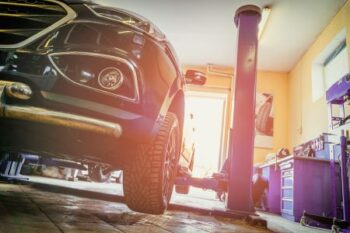 Warranty
Can your mechanic provide you with a warranty for the work that they do on your car? If so, what's the duration of this warranty? You may also want to check if there are any exclusions stated in their warranty.
This is important because some auto repair shops use cheap parts and have no problem blaming you when something goes wrong with your car. So, if there is a warranty on the work done, this can protect you.
Organized Workspace and Scheduling
A good auto repair shop will have an organized work area, and the staff there will also be well-organized. You can tell this by the way they schedule your appointments for car maintenance. They should also give you a time frame for how long it will take them to finish your job.
A well-organized mechanic with a good work ethic will be more reliable than one who isn't.
Convenient Location 
The most convenient auto repair shop is one that's near your home or business office. But even if it's not, you can still find affordable car services in nearby shops if necessary. What matters the most is that the location of your mechanic will be convenient for you to get there on time.
Prices
Don't forget to get the prices of the work done on your car before you drive it off the shop. Having a record of this can come in handy if there are problems with your vehicle in the future.
One thing you'll have to consider when you see the bill is whether the repairs were necessary. It's crucial to find a mechanic who won't try to overcharge you for unnecessary work.
Conclusion
This list may seem long, but these are all things you should be looking for when choosing a mechanic to work on your car. If your mechanic does all of these things, you can expect to save money in the long run. The right mechanic will ensure that your vehicle stays in great working condition for a long time. Ensuring that the mechanic you choose has all or most of these qualities will entail that you receive the best service for your vehicle. Here at Steve's Imports, we have trained professionals and offer competitive pricing no matter the service you require. Call us today!
FAQs
What does a tune-up consist of?
A tune-up will typically include checking the engine's ignition and fuel system, spark plugs, air filters, battery terminals. You may also have an oil change done during this procedure.
Do car repair shops rip you off?
Car repair shops are a necessity. We have to take care of the cars we invest so much money into, and there will always be something that needs fixing from time to time. One thing that you can do is ask around for any references from friends or colleagues who have purchased their repairs recently, but you can always expect that somebody somewhere is looking to make a quick buck at your expense.